Quilt Pattern
Garneitta's Star
MAIN INFORMATION
Located six miles northeast of Tazewell on Cave Springs Road, the Echoes Acres Farm became a Century Farm in 2001. In 1865, Joseph Southern and Jenetter Brooks Southern established the property with 243 acres reserved for the production of corn, hay, vegetables, fruit, cattle, horses and hogs.
The founders had two children and their son, Jeremiah Southern, became the next owner of the farm. Jeremiah continued to raise the same crops and livestock that his father had with the addition of tobacco. Jeremiah and his wife had one daughter, Laura Belle Southern, who became the third generation to own the farm.
Laura and her husband Harvey Whitaker had four children and cultivated the same crops and livestock with the addition of wheat. In addition to managing the farm, Harvey and Laura operated a blacksmith shop on the farm where they made and repaired farm tools for several years. Their son, Paul Whitaker was the next owner of the farm land.
In 1975, Garnieta Whitaker McNew, the daughter of Paul and great great granddaughter of the founder acquired the farm. Garnieta and her husband Joe McNew, grew many of the same vegetables and products that the previous owners had done. Using the abundant timber from the farm land, Joe and Garnieta cut the timber and built a brick ranch house in 1984.
In 1985, Joe McNew started a hobby of collecting and grafting old apple trees onto semi-dwarf rootApple Orchard stock. These apples are not grown for the market, instead they are grown to preserve the old varieties of apples.
Today, the farm continues to produce many agricultural products and has many structures on the land such as two large barns, a tool shed, a brick ranch house, and a cabin.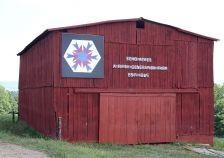 Audio
CONTACT INFORMATION
Cave Springs Rd
Tazewell, Tennessee



LOCATION MAP
36.524672 °N, -83.527553 °W